New Patients Center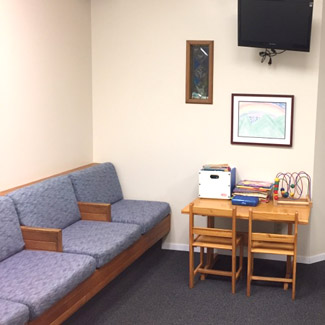 Koolau Family Chiropractic is located inside of the Kailua Business Center. When you walk in, you'll find a family-friendly facility. Children are welcome to color at a kids' table or read books. Dr. Glenn will see you promptly to get started.
Your First Visit
You'll sit down with Dr. Glenn to discuss your health history and what has brought you in. Then, a chiropractic examination is performed. You'll receive a chiropractic adjustment. This appointment takes about 45 minutes.
Your Second Visit
When you return, Dr. Glenn will go over the findings from your examination. You'll receive another adjustment and be done in about 15-30 minutes.
Regular Visits
At your follow-ups, you'll talk with Dr. Glenn about how you've been since your last appointment. She'll use:
Visualization: to look at subtle changes in your movement and posture which could indicate any problems.
Instrumentation: the Nervoscope detects uneven distribution of heat along the spine which can indicate inflammation and nerve pressure. This instrument is glided on either side of your spine.
Static Palpation: Check for swelling, tenderness or tightness in the muscles and tissues of your back by hand.
Motion Palpation: Feeling the spine while moving and bending it at different angles.
X-ray Analysis: Will enable your doctor to visualize the entire structure of your spine.
Feel free to ask any questions you may have at this time, and we'll continue discussing chiropractic and your health to educate you with the information you need.
How Long Do I Have to Continue Care?
You can think of your spine like your car — it needs some maintenance to keep up with the stresses of life. Some patients prefer to have chiropractic care until they're out of pain and may return periodically. Others choose to stay on through their crisis and have maintenance care. These periodic visits might be once a week, once a month, quarterly or yearly, depending on what you need. You'll only receive an adjustment if it's needed.
Contact Koolau Family Chiropractic today to learn more! ChiroPlan Hawaii, UHA, HMAA, HMSA (Blue Cross/Blue Shield) and American Specialty Heath (ASH) coverage is accepted.

New Patient Center | (808) 262-2099